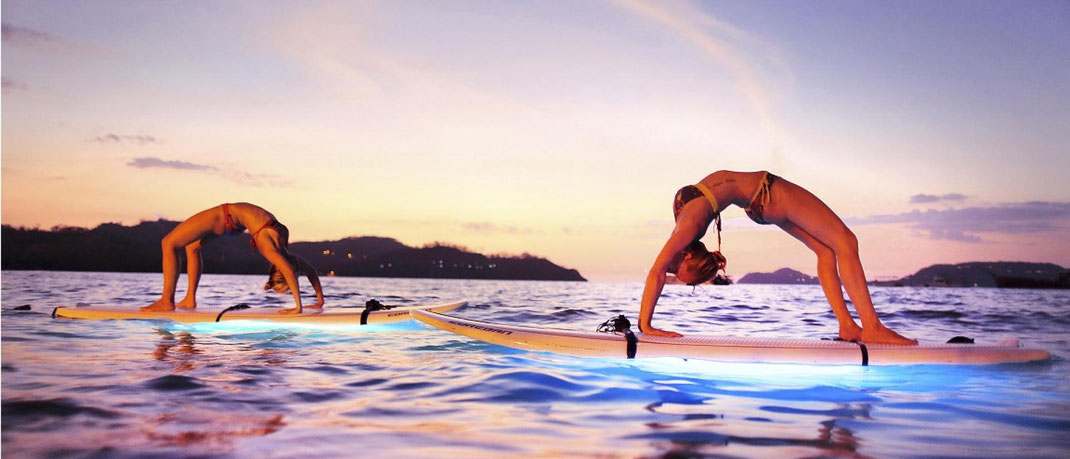 Costa Rica is well known for its biodiversity, rainforests, adventure tours, great surf, and friendly locals. The beautiful country also happens to be a top destination for yoga enthusiasts. The mystical Central American nation of Costa Rica is a place of stunning and lush jungle scenery, jaw-dropping beaches and an altogether welcoming country where you can lose yourself in the mists of ancient time and find yourself all over again. Your true deep self. And if you decide to embark on a yoga retreat Costa Rica has it all. Some recommendation and amazing places:
Envision Festival
If you're looking for a Costa Rica yoga retreat that offers higher energy, larger scale, and enlightening experience, the Envision Festival is perfect for you! There are 8 pillars that this festival is founded on: Permaculture, Spirituality, Movement, Art, Music, Community, Health, and Eco-Building. Over the course of the 3-day festival (which happens annually within the first few months of each year), you'll be completely enveloped in all 8 of these pillars. You'll come out the other end enlightened, excited, and centred.
Tickets for the 4-day pass at the Envision Festival range from $315 – $745 USD.
Pranamar Oceanfront Villas and Yoga Retreats
Pranamar is a Balinese-inspired boutique hotel located on Playa Hermosa in Santa Teresa. Throughout the year, there are several yoga retreats that take place here, including a great one through Vajra Sol Yoga Adventures. Daily yoga classes are open to both locals and guests. The open air shala (studio) is a divine place to practice yoga near a view of the ocean. After practice, yogis can indulge in a locally sourced, organic meal in the hotel restaurant.
Anamaya Resort (Boutique Hotel, Resort)
Anamaya is a luxury boutique retreat center that is elevated above the peaceful bohemian town of Montezuma. The views of the ocean and rainforest are spectacular and make for a surreal setting to practice yoga. This center offers retreats, yoga teacher training courses, and individual classes throughout the year. They also have a fabulous spa and organic restaurant.
Restoration Week at Harmony Hotel
This incredibly sustainable eco-hotel in beautiful Nosara is a wonderful place to stay regardless of whether or not you're participating in yoga in Costa Rica! But it becomes a next-level experience when you opt to visit one of their retreats. They have a few different types available, but their "Restoration Week" is by far the largest and most popular event they offer. Restoration Week is all about reconnecting you with yourself. You get individualized consultations at their healing center, personalized yoga routines, and several massage sessions. There are 3 and 6-day options available, and it's open to anyone who wants a beach yoga retreat to work on their mind and body!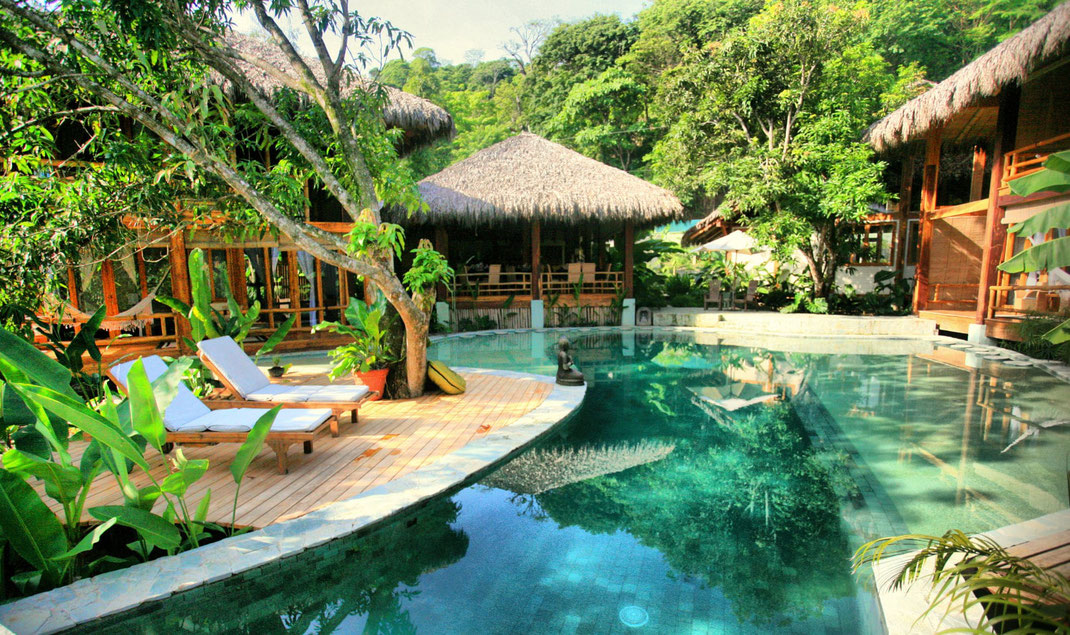 Playa Cativo Lodge offer a 7 days Wellness Experience
Costa Rica is blessed with impressive scenic beauty making it a very attractive destination for visitors from all over the world. One of the most beautiful areas in Costa Rica is the Osa Peninsula. It is untouched, raw, secluded and inspiring.
FIRST DAY-INMERSION
Set in the heart of Costa Rica's rainforest on the coast of Golfo Dulce in the Osa Peninsula and accessible exclusively by boat, Playa Cativo is a luxury beachfront eco-lodge offering stunning accommodations in true harmony with nature. This 5 star Costa Rican hideaway is a private and exclusive destination where you can connect with nature…
SECOND DAY-ENLIGHTENMENT
You will wake up in paradise.
It is time to enjoy all the beautiful sounds of nature. Toucans, scarlet macaws and many more birds will be singing for you. Howler monkeys will also remind you that you are in the Osa Peninsula. It is exclusive, secluded and peaceful. Be open to receive all the blessings nature has to offer…
THIRD DAY-JOY
We can add a private yoga class in the morning or you can explore the beauty of the property.
After breakfast you will partake in a very nice activity: The introduction to the tropical rain-forest guided tour…
FOURTH DAY-TRANSFORMATION
Say hasta luego to Playa Cativo and get on board to Puerto Jimenez.
After breakfast, the guide will join you on another amazing boat ride back to Puerto Jimenez.
The guide will take you to the airstrip where you will do the check in for your local flight back to San Jose, and
then a connecting short flight to Liberia, located in the province of Guanacaste…
FIFTH DAY-SERENITY
In the morning you will be amazed by the peace that surrounds
you. Waking up in paradise can be overwhelming.
A private yoga lesson will be a arranged for you. "The Yoga Shala area is an amazing place to relax and meditate. It is a sacred place where you will feel relaxed, at peace and joyful. Namaste!..
SIXTH DAY-PEACE
You will have two private yoga lessons scheduled for you. One in the morning and one in the evening.
During the rest of the day, take advantage of all the included activities.
This wellness itinerary has been designed to bring you a life changing travel experience…
SEVENTH DAY-AWAKENING
We invite you to listen carefully to the amazing sounds of Origins while you enjoy a delicious cup of coffee or tea in the privacy of your terrace. It is a simple but peaceful way to enjoy your last morning in this amazing property. The chef will prepare your last and delicious breakfast and you will say goodbye to paradise and the new friends you have made at Origins…
What`s included in this unique wellness itinerary:
Meet and greet at the airport in SJO on your arrival day.

Local flight to Puerto Jimenez.

Boat ride to Playa Cativo with one of the guides from Cativo.

Accommodations for three nights at Playa Cativo in a Luxury Guest Room.

All meals are included in Playa Cativo.

Three Private Yoga Lessons.

One Spa treatment at the Jungle Spa.

The introduction to the tropical rain-forest guided tour.

Other tours included: Standup Paddle and Cativo Bay Kayaking / SelfGuided Cativo Bay Snorkeling / Off-Grid Alternative Energy Tour / Artisanal Hand-Line Pier Fishing.

Freshly brewed specialty coffees and teas.

Access to self-guided hiking trails of the Reserve.

A "surprise and delight" in-room amenity.

Concierge services and wi-fi in all rooms and social areas.
Twice daily maid service.

Boat ride back to Puerto Jimenez with one of the guides from Cativo.

10% discount at the Spa (Cativo).

Local Flight to San Jose.

Local Flight to Liberia.

Ground transfer to Origins Lodge.

Accommodations for three nights at Origins Lodge in a Luxury Spacious Lodge of 100 m2.

Full Board with gastronomical breakfast, lunch and dinner prepared by the Michelin-starred Chef.

Freshly brewed specialty coffees and teas.

Two yoga lessons per day.

Other tours included: Horseback Riding / Lake Fishing / Sensorial Pathways / Birdwatching tour / Medicinal Plants Tour / Flora Tour / Wildlife Night Tour.

Transfer back to LIR airport.
So as you can see, yoga retreats in Costa Rica are in abundance and there's something for every type of yogi! Feel free to contact us